Dear Friends,
These lines from Ken Untener's prayer inspired us to choose Planting Seeds for Success as the theme for our 2022 Annual Report:
"This is what we are about.
We plant the seeds that one day will grow.
We water seeds already planted,
knowing that they hold future promise."
Seeds are the ultimate metaphor for hope — young and full of potential — and a fitting symbol for our students. Cristo Rey St. Martin is a community of donors, business partners, faculty, staff, alumni, and friends who create the ecosystem where our students flourish. Our young people are our future. With proper care and nurturing, they will grow to their full potential, but it doesn't happen overnight. It takes intentional, focused work, day-after day and year-after-year, for our students to bring their God-given talents to fruition. This is especially true in a community climate full of challenges.
High school drop-out rates at local public schools here remain close to 50% and the pandemic has only complicated the educational landscape here. But at CRSM, students are thriving. CRSM represents only 7% of the high school population in North Chicago and Waukegan. However more than 50% of all new bachelor's degrees being earned by Pell Grant eligibility in our area belong to CRSM alumni. This year's Annual Report illustrates how CRSM students and alumni are blossoming despite so much uncertainty and how they are using their God-given talents to make the world better.
Our success has always been a team effort — a collective success resulting from the hard work and generosity of so many people, including you! We simply cannot do it alone. Even though you are not physically in the hallways and classrooms on a daily basis, you are with us in spirit. Your support is more important than ever! You help us continue and extend our mission.
By supporting our students, their families, and our community, you are planting seeds for success. You are sowing seeds of hope for brighter futures. Thank you!
Sincerely,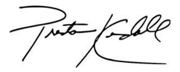 Preston Kendall
President